Great to see one of my students having success in Juniors and soon to be in College. Congrats Zach you earned it!
Minot, ND – The Minot Minotauros are proud to announce that goaltender Zach Sandy has committed to play NCAA DI hockey for the University of Minnesota-Duluth.  Sandy becomes the 75th NCAA DI commit in the history of the program and the third to head to UMD following Jake Rosenbaum and Kyler Kleven.
Off to a strong start in his rookie season Sandy leads all NAHL goaltenders with a .932 SV% on the year and is seventh in GAA at 2.35.  Through 19 games his .932 SV% ranks second all-time in Tauro history behind Gunner Rivers who posted a .944 SV% in 14 games after being acquired via trade late in the 2015-16 season.
Sandy says he chose UMD, which has won three of the last ten NCAA DI championships, for multiple reasons, "I love that the program has an unbelievable coaching staff and a tremendous reputation of winning and earning what you get through hard work."  He continued, "I like that the school offers my major [business] and that it's a perfect size for me to be able to be the best student and hockey player I can be."
Tauros Head Coach and General Manager Cody Campbell believes Sandy will fit right in with UMD's track record of success; "His commitment to UMD has been well earned through his play this season. Duluth is getting an extremely competitive and athletic goalie that I believe will continue build their culture as they compete for national championships year in and year out."  Campbell added, "we are thrilled for Zach and his family; and look forward to continuing to help Zach progress prior to arriving at UMD."
Sandy believes that Campbell and the rest of the Tauros staff were integral in his taking the next step of his career; "being a Tauro has helped me accomplish by D1 goal by teaching me of the work ethic and culture that is needed to be a great player!" He continued, "also all my teammates have put their bodies on the line for me and I hope to help them achieve their goals in the future."  The UMD bound goaltender did not stop at teammates when giving thanks, "I would like to thank God first with everything the lord has blessed me with in life, I would also like to thank my family for the loving support they've given me, and all of my coaches, especially Cody, for believing in me and putting me in a position to succeed."
Sandy and the rest of the Tauros head to Austin, MN, this weekend to take on the Austin Bruins.  
This dates me, but one of my former goalies only for a few years is climbing the ladder towards the NHL
In this episode, Jay talks to former Utah Grizzlies and current Lehigh Valley Phantoms goalie Garrett Metcalf. The two talk about what it's like to be the third man out on a team due to NHL contracts, getting called up to the AHL, and making the most of your opportunities. 
Role of a Back Up Goalie
1. Work your butt off everyday. It's your job to take care of your own development and make sure you're doing everything you can to improve, even if you aren't seeing game time.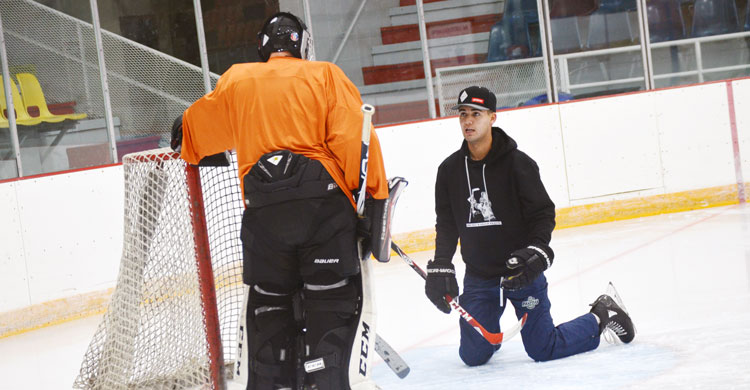 2. Be a great teammate! Support the starter. How you treat your partner says more about you than it does about them. Be loud on the bench, boost your teammates, let them know even though your not playing, you still care!
3. Your practices become your games. If you aren't seeing minutes, your practice time is even more important. Use those hours to hone in your craft without the pressure of playing a game the next day. Use them as opportunities to prove your worth and earn time. Show up early and be the last to leave.